I'm ordering my wedding gown in just under 2 months. And I STILL can't decide!
Background: I've been to David's Bridal twice. I hate shopping in stores, I hate trying things on, and I hate the pressure of bridal salons. I don't want a cookie-cutter dress. I am done with stores. I WILL be buying my gown from one of the two below merchants, so don't try to talk me out of it. =)
It's down to two. I keep going back and forth. The second one is NOT going to look like the picture. Please read the whole description.
Dress #1:
www.lightinthebox.com/A-
line-Sweetheart-Chapel-Tra
in-Satin-Lace-Wedding-Dres
ses-for-Bride---Reception-
Dress--WGY0049-_p47930.html
Pros:
- I know exactly what this dress will look like from the picture. No changes will be made.
- It is $100 cheaper than my other choice.
- It can be made to my exact measurements.
- The lace used in this looks ethereal.
- It's got great reviews.
Cons:
- I've never purchased from this company before and don't know if I can trust them.
- I sort of want a corset back on my dress, but it's possible a seamstress could add that.
- It has a small train, which I'm not 100% sure if I want, but I do like the that it's traditional.
Dress #2: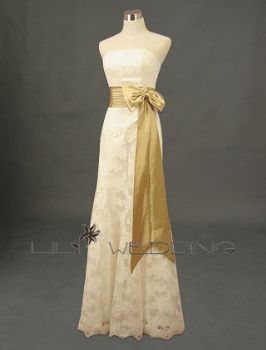 www.lilywedding.com/inde
x.php?page=shop.product_de
tails&orderby=pshop_produc
t.product_name&flypage=sho
p.flypage&product_id=164&c
ategory_id=657078&option=com_phpshop&Itemid=0
CHANGES: I would be ordering this in white, with a corset back, with no sash, and neckline would be sweetheart.
Pros:
- I have purchased from this company before, and a friend bought her wedding dress from them. I know and trust them.
- I can have the dress designed exactly how I want, with any changes I want. Also made to my exact measurements.
- The lace design is very classic.
- It has no train, which is easier to walk in.
Cons:
- It's $100 more.
- I won't be able to see the finished product until I receive it.
- The reviews are mixed.
Now here's my dilemma. First of all, which one to get? But also, should I buy both to compare in person, and try to re-sell the one I don't want on eBay? I already own 2 wedding dresses I bought on eBay and changed my mind about. I have to re-sell those too. I could open my own gown shop at this point, lol.
There is obviously no returns, they are custom-made. But they are obviously not very pricey (both are made in China) and I could probably get $200 back for them on eBay. It's a risk, but not a huge one. I do feel frivolous potentially owning FOUR wedding gowns at some point.
So what do you all think? Which do you like better?